You've likely found some of our support documentation or you wouldn't be here, but our entire support system is accessible from one quick menu from within the application for all your users. We encourage you and all of your meeting group members to utilize the support links through the BlueSky Meeting tool as it provides our support team useful information that helps us expedite your support needs.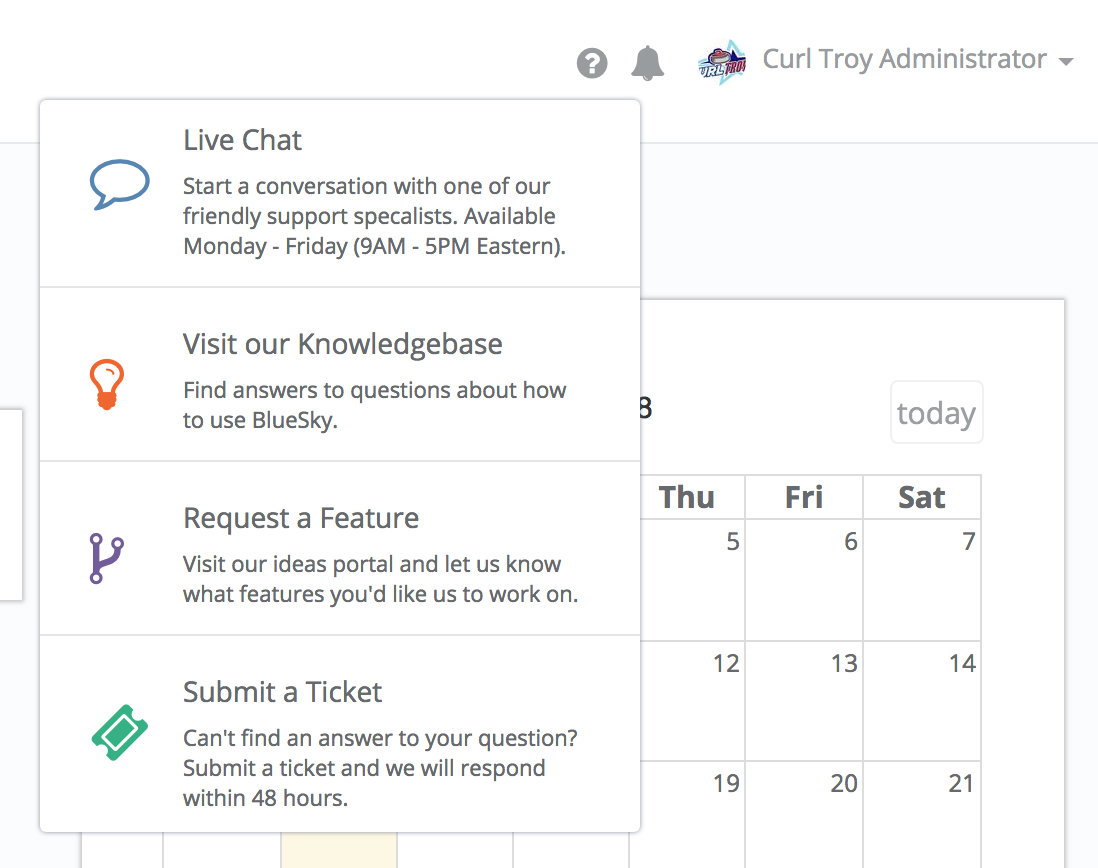 Live Chat - All of your administrators and meeting group participants may use our live chat support option whenever it is available. Normal operating hours for our live chat are M-F from 9am-5pm Eastern time, though live chat may be unavailable due to workload and other factors. We do our best to have live chat available as much as possible. If we ever don't answer a live chat, just put your email in the chat and we will get back to you.
Knowledge Base - You're here so you've found our knowledge base. This is an ever growing base of documentation about BlueSky. The knowledge base is a great place for self help and should be the first place you start when you have a question. It is regularly improved and added to based on new features being created and customer questions and needs. If you ever think that there should be an article about something just let us know by submitting a ticket and we will look into adding it.
Request a Feature - If you think BlueSky could be better by the addition of a feature or a change you can request that feature in our Ideas Portal by clicking this link. In our ideas portal you can see what others have requested and make additional requests. We regularly look through the ideas portal as we plan what the future holds for BlueSky Meeting.
Submit a Ticket - If you still haven't found the answers you need you can also submit a support ticket and our team will help guide you through the answer. Our response to support tickets is as quickly as possible. If you submit a support ticket please be patient as our team will take the time to research your request and try to provide you the most detailed response that they can.
Phone Support - Phone support is available to our enterprise customers if they have it included in their SLA. For other customers phone support is initiated by our support team when needed to resolve a ticket or chat request.